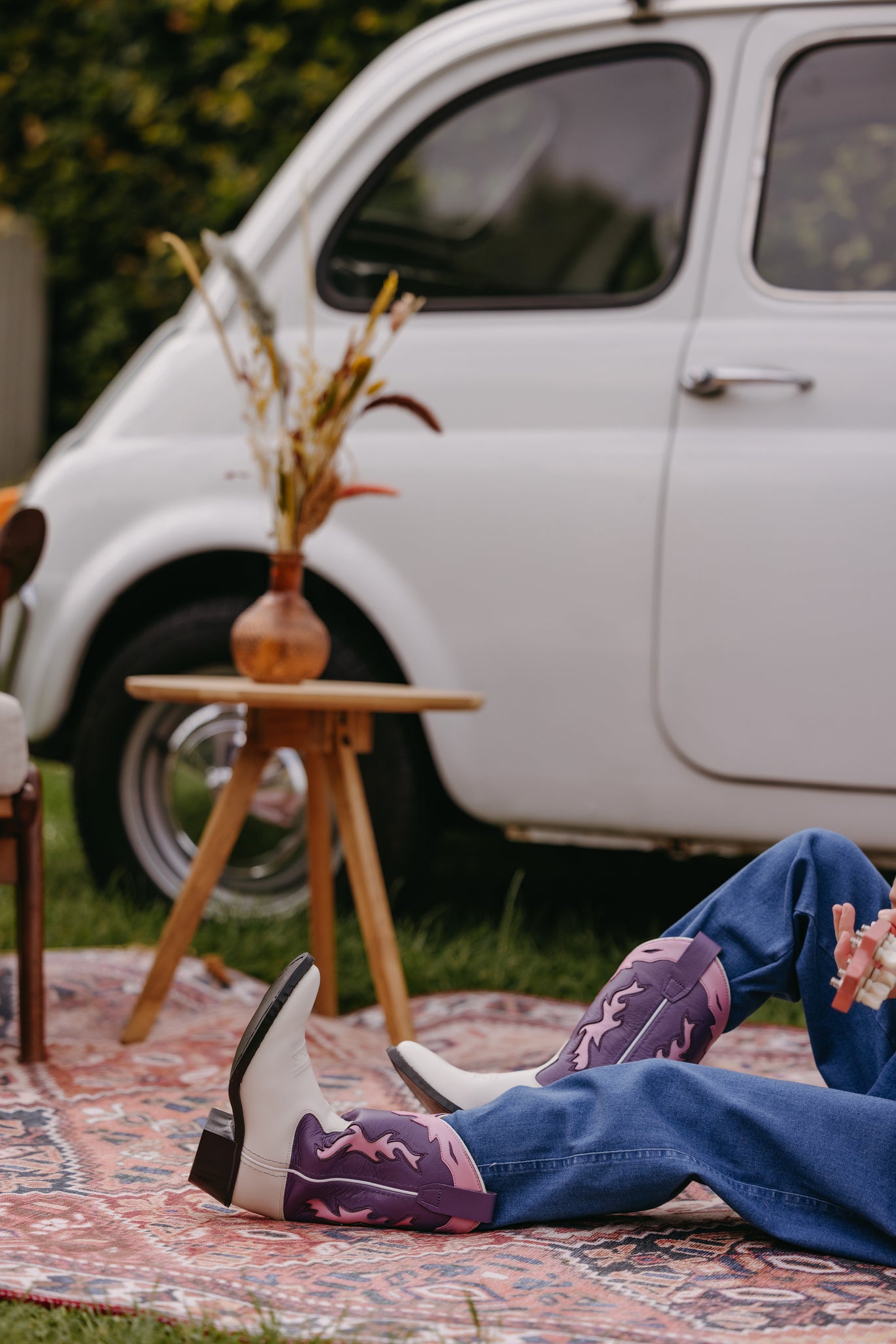 De perfecte laarzen voor… het festivalseizoen
Jaaa, het festivalseizoen is weer begonnen! Dat betekent leuke feestjes, gezellige avonden én gave outfits. Deze maak je af met de laarzen van Bootstock!
Van 's ochtends vroeg tot in de late uurtjes geniet je heerlijk in de buitenlucht onder het genot van een drankje van heerlijke muziek. Jij lacht, danst en zingt mee onderwijl de ene artiest het podium verlaat en de ander hem weer betreedt. Precies, het festivalseizoen is weer begonnen! Jouw agenda staat volgepland met evenementen die jij moet bijwonen. En, misschien wel net zo leuk is het uitzoeken van de perfecte outfit! De laarzen van Bootstock maken jouw festivallook helemaal af.
De laars voor overal
Cowboylaarzen zijn dé perfecte schoen voor op je festival. Behalve het feit dat ze eigenlijk overal goed bij staan, zijn ze ook nog eens gewoon heel praktisch. Door de hoogte van de laars sta je niet de hele dag met modderige enkels of koude voeten. Is het weer nou een keer minder mooi, dan kun jij gerust stiekem een paar dikke sokken in je laarzen aantrekken. Niemand die het weet! Maak ze na al je feestjes wel even goed schoon. Dit doe je zo. Op die manier blijven ze ook mooi.
Laarzen die stralen
Behalve dat je cowboylaarzen erg praktisch zijn op een festival, zijn ze ook nog eens een echt statement piece. Een complexe, flashy outfit is helemaal niet nodig als je er een stoer paar laarzen onder aan trekt (al is dat natuurlijk aan jou. Wil je wel helemaal uitpakken, dan zeggen wij, ga ervoor!) Door de intrinsieke gedetailleerde designs van Bootstock laarzen, heb je nooit een 'saaie' laars aan. Bovendien zit er voor iedereen wat wils. Of je nou houdt voor een felle of neutrale laars, normale of hoge schacht, franjes of glanzend leer. Niet voor niks dat de laars elk jaar bij Coachella een razend succes is.
Stijlen
Bij het stijlen van je cowboylaarzen kun je natuurlijk all-out gaan en je volledig laten gaan in de western look. Bijvoorbeeld met elementen van denim en, net zo makkelijk, een cowboyhoed. Een denim korte broek doet het bijvoorbeeld eigenlijk altijd goed, maar ook een flowy jurk of gave rok werkt. De opties zijn eindeloos!
Een laars die het volhoudt
Op een festival ben je de hele dag in de weer en zal je stappenteller je dankbaar zijn, maar je voeten misschien iets minder. Blaren, schaafwonden en zere voetbodems - waarschijnlijk heb je het allemaal al eens gehad. Mooi aan de laarzen van Bootstock is dat ze van 100% leer zijn. Behalve dat dit erg goed ademt, is leer ook erg meegevend. Dat betekent dat het de steun geeft die je verwacht van een schoen, maar dat het zich tegelijkertijd gaat vormen naar je voet. Koop je schoenen op tijd en draag ze met regelmaat, dan sta jij dit festivalseizoen pijnloos op elk evenement!